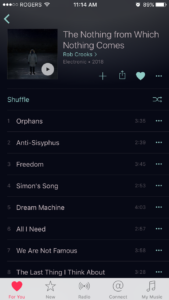 My new album "And the Nothing From Which Nothing Comes"* is now available to stream on all streaming services. I mean, I don't know about all streaming services. I can only name two: Apple Music and Spotify. It's available on those two services for sure. But I think Jay-Z has a streaming service too, right? I don't know if you can listen to my album on there or not. But check it out if that's all you've got. First listen to the Jay-Z song "22 Twos" and then listen to my album. And listen to it a bunch. Leave it on repeat while you sleep. I think I get .009 cents every time you stream it. So hook me up with some love. Some fraction-of-a-cent love.
If streaming isn't your thing, you can also purchase the album in either it's digital or it's physical form on Disintegration Record's bandcamp. The physical copies are in the form of cassette tapes. When I tell people about the cassettes they often give me a puzzled look and ask why I would make copies of my album in an obsolete form. It's not an altogether inappropriate question. But at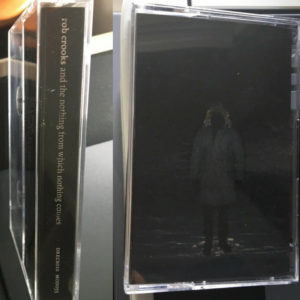 the speed of which technology is moving, we're soon going to turn the corner and the only non-obsolete form of music will be streaming, like through the services mentioned above. And as we all should know, streaming services are terrible for artists. So I wanted to produce a physical copy of my album which people can buy as a way to show support for what I'm doing. I thought seriously about CDs, but I personally hate them. Plus, CDs are more obsolete to me than cassettes are: I have no way of playing a CD at home or in m car. I have no CD player nor disc drive in my computer. I do, however, have a cassette deck. But even if you don't have a cassette deck, cassettes look way cooler than CDs! CDs are a waste of space, but you can put a cassette on your mantel and show it off to guests. It's fucking retro as shit. And in case you needed more convincing, we've included download codes with the cassettes which include 2 additional songs which are not available anywhere else. Because we are marketing geniuses.
Anyways, I hope you can listen to the album and enjoy it, through whatever means available to you. If the only thing you listen to is CDs, there may be some CDs coming down the pike at some point. If you're waiting for the album to come out on vinyl, all I'll say is this: "You and me both, friend. You and me both."
*Please note that for the European release of "And the Nothing From Which Nothing Comes" through Marathon of Dope, the album is called "The Nothing From Which Nothing Comes" due to legal issues regarding U2's album of the same name.