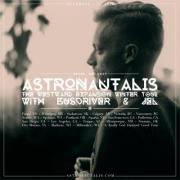 On Sunday, December 2nd at the Pyramid Cabaret in Winnipeg, I get to open for the Astronautalis with Busdriver and JEL tour. So, put on your backpacks, your hoodies and white sneakers, and let's hop in the time machine back to 2002 and watch some serious underground rap!
Astronautalis is not a house-hold name yet, but in a year from now, who knows. He's come a long way since battle-rapping at Scribble Jam. With all the mainstream press, sold-out shows in Europe and endorsements from people like Tegan and Sara, it shouldn't be long before he's playing bigger venues than the Pyramid.
Back in 2010, when Magnum KI played Pop Montreal, we got the chance to share the stage with Astronautalis. You could tell by the atmosphere in the place at that time that this guy was onto something. A sold-out, albeit small-ish venue was teeming with excitement over his specific brand of inide-rock meets underground hip-hop. That show had an energy that I hadn't experienced many times before, and maybe haven't since.
Astrontautalis would be a good enough reason to get out of the house and stop getting drunk by yourself; but add to it Busdriver and JEL and you have something pretty special. Last time Busdriver was in town it was criminally under-attended. For someone with such talent and experience it seems strange that Winnipeg didn't take more notice. Mixing top-notch technical emcee skills along the lines of Myka 9, or even Tech Nine, with art-school sensibilities, Busdriver is an artist that any rap fan would appreciate, no matter how deep their crates are. (Note: I have no idea whether or not Busdriver went to art-school. But his dad did write the movie ​Krush Groove.)
But what I am personally most excited for is JEL. I have been a pretty avid fan of JEL since I first heard Deep Puddle Dynamics over ten years ago. Since then the Themselves albums he's made with Dose One are some of my favorite pieces of music ever. A beat-smith and sometimes rapper, you could easily call JEL one of my favorite producers. But the term "producer" seems limited considering all the things that I admire JEL for. Sure his beats are incredible; but the fact that he plays them live on his MPC makes it even more exciting. I haven't had the chance to see Themselves live yet (although I have seen Subtle); but lately their sets seem to be things of legend. The fact that one-half of this duo will be at the Pyramid gives me goosebumps a little bit.
So, I don't know. What are you gonna do? Not go to this show? Stay home and watch Football? Don't be dumb.