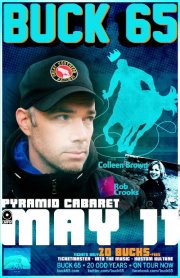 Things are starting to pick up for me as summer starts to roll around. I have a few big shows coming up that I am really excited for, including this one: opening up for Buck 65 at the Pyramid Cabaret in Winnipeg, this Friday, May11th, with Colleen Brown.
This show means a lot to me for a number of reasons. Buck 65 has been a huge influence on my musical outlook since I first heard his album Vertex over ten years ago. At the time, I was just getting out of high school and was a major "backpacker"; I listened exclusively to New York underground rap, from Black Star to Mobb Deep, Thirstin Howell to Gang Starr etc. But with the opening up of the Wax Museum (a now defunct) record shop in Osborne Village, hip-hop fans in Winnipeg like me didn't have to rely on what HMV had in stock anymore. Thanks to the dedicated people at the Wax Museum our eyes were opened up to a whole other contemporary movement in hip-hop that was happening all over Canada and the States at the time. With the guidance of the people who ran the record shop, all of whom were active in the local scene themselves, I was introduced to so many mind-blowing acts, from locals like Fermented Reptile and Frek Sho, to Canadian artists like Epic and the Goods, to American crews like Living Legends and Anticon.
But out of all of these acts, Buck 65 made an impression on me that was unique and particularly influential. The music he creates is undeniably hip-hop, but unlike any other hip-hop I'd ever heard before. His album Vertex was my first glimpse into a relatively uncharted territory, a completely novel way of thinking about breaks, cuts and rhymes. It wasn't long after I heard Vertex that I picked up is earlier release Language Arts and the Sebutones album 50/50 Where It Counts (Sixtoo was also a huge influence). These three albums, along with Man Overboard are without question masterpieces of modern hip-hop music. Their influence on me is still unfolding, even a decade after my first contact with them.
You can check out the Facebook event page for this show here.
Buck 65 – Eye Make-Up Excuses (Language Arts)
Sebutones (Buck 65 & Sixtoo) – Tranquilized Tones (50/50 Where It Counts)
Buck 65 – Untitled (Man Overboard)