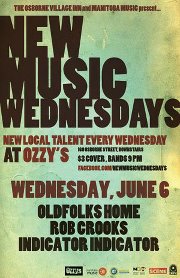 As I mentioned in a previous post, it is starting to look as though this summer will be a busy one for me. Which makes me happy, although I can never be busy enough! And so here is another show that I have coming up, this one on June 6th: Manitoba Music and Osborne Village Inn present New Music Wednesdays featuring Rob Crooks, Oldfolks Home and Indicator Indicator! It's only $3 to get in! And although it is on a Wednesday, the music does get going early for all of those responsible people who have to get up in the morning on Thursday.
I'm excited to play Ozzy's again. As a youth running around these dirty Winnipeg streets, I was first really exposed to the seedy underbelly of the city through the classic punk venue Ozzy's. It was one of the only venues in town that had all ages shows regularly; so as early as twelve years old I was meeting up with friends to hop on the bus, riding down to a-much-different-than-now Osborne Village and climbing those ominous stairs down into the grimy underground club. The experiences were definitely something novel to my fresh-faced friends and I: getting freaked out by older kids who were high on acid; seeing bands that were screaming obscenities over thundering drums and guitars; and generally just feeling like I was finally doing something! So, Ozzy's definitely has a special place in my heart. And I'm always happy to perform there.
Manitoba Music's New Music Wednesdays started a year or two ago, I guess with the idea of bringing together different people from the province's music scene with the goal of influencing each other and networking. A lot of great acts have played the night in the past and I am honoured to be a part of it, along with two other great acts. As a member of Magnum KI, I've had the privilege of performing with Oldfolks Home before, as well as being a member in his audience more than once. I can honestly say I am more than pleased to share a stage with him again. If you are unfamiliar with his work, check it out here. Indicator Indicator I have yet to see perform live, but have heard great things and have found them to be backed up by the online content I've seen. The website for Indicator Indicator can be found here.
As I said before the show is on June 6th, it's only three bucks, starts early and is in the basement of the Osborne Village Inn, in the club known as Ozzy's, in Osborne Village. You can check out the Facebook event page here.