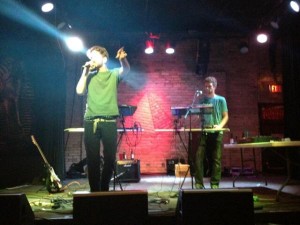 If you've had the chance to catch one or more of my past few performances in Winnipeg, you've been fortunate enough to experience the great accompanying power of my good friend Jonathan Askholm. Jon is someone who I've known for so long I don't remember meeting him. It was probably in our grade one class, but my memories from that time are a little cloudy since, to quote Damo Suzuki, "I was getting high a lot back then." (Jokes!)
Although Jon and I were both very much into music during our school days, and we each spent time in bands with the same friends, we never really made music together until recently.
Earlier this year Jon returned from Asia, where he had been teaching English and traveling. Via the wonders of the internet, however, we were able to keep in close contact with each other. The subject of our conversations for the most part centred around music: I would tell him about what I was up to musically in Canada, and he would tell me about the band he started in Korea with some other English teachers. I  told him I was thinking of adding someone like-minded to my live show, to fill out the sound and give it more energy. Jon, who had left behind two bands when he went to Asia, also intimated that he was eager to make music with someone of similar interests when he returned home. We agreed that when he got back to Canada we would start a band.
I had been developing the idea for a different kind of band in my head for a long time. I wanted to have the energy of a punk band, but sonically I wanted something closer to hip-hop and electronica. I wasn't particularly interested in the typical set-up of a traditional band, nor the idea of having pre-programmed music as part of the set; I wanted to use samplers and drum machines as instruments. Jon was open to the idea, and upon my suggestion and his own research, agreed to pick up an SP-404 sampler and a keyboard, which would be compatible to my own set up of two keyboards, an SP-404 and a 303. It wasn't long after he got back that we were fully equipped to bring the idea to life.
Since this way of making music was relatively new to Jon, and since I wasn't exactly sure about how we were going to work out the practical details, we decided that we should start by having Jon learn my songs and accompany me during some shows I had lined up. So far it's been going better than we could've expected. At our last show (which was also our best one yet) we were able to perform four brand new songs that we had written together. It's been going surprisingly smoothly.
Jon will continue to accompany me on my songs for the next few shows, but also expect to hear a lot more music that we write together as a group. Our goal is to make our music and live show as fun and danceable as possible, but without simplifying it or staying stagnant. We are both very excited about the future that is beginning to take shape just up ahead of us.
Facts about Jonathan:
– Before Jon left for Asia, he was the bass player for one of my all time favorite Winnipeg bands, The Mouth-Boat. The band has been described (I'd say accurately) as "pre-punk art terror."
– He also released an experimental album with the drummer from the Mouth-Boat, Goldwyn Miller, under the name Shoshaku Jushaku. I was featured on one of the songs (which is good) and we made a video for it (which is terrible). Check it out here. Dynamo also was featured on one of the songs from that album, which also had a video. I like both. Check the video out here.
– Jon has spent a total of three years in Asia. He's got a lot of great stories about his travels that you should ask him about if you get the chance.
– Jon has a degree in psychology with a minor in sociology. (Yawn.)
– Jon's father is a well-respected organist in the city and also a former music teacher. In other words, Jon is a lot more musical than I am. But we balance each other out.
– In high school Jon used to be into punk music, before he started doing drugs, going to raves and dressing like a chav.
– Jon often visits a meditation camp just outside of Montreal where you only eat once a day and you're not aloud to speak.
– Jon is a strange man. But also cool.
We have a few shows lined up together coming right up in August, so stay tuned!