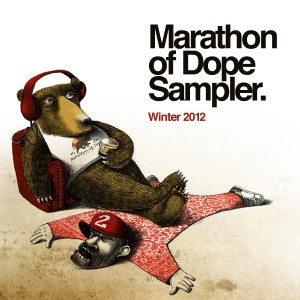 With your head down, caught-up in the every day grind it's easy to forget to take a breath, look around and see how far you've come. When you're knee deep in it, shoveling it, clawing at it, fiddling with it's most minute details, and it feels like it's taking forever to get anywhere it can be draining on your mind and body. When you lose sight of the big picture, struggling with the pixels can seem like a fruitless task.
But every once it a while you get a chance to stand back and take  everything in from a bit of distance. That's when you realize why you do what you do, and you remember how lucky you are to be a part of something bigger. Today I got one of these chances.
The Marathon of Dope Winter 2012 Sampler became available today for free download. It's a Dj-style mix of songs from all 29 Marathon of Dope releases. It features some of the most interesting artists that I know of making music today. Listening to the mix for the first time this afternoon made me extremely excited about what my friends and I do again. It also reminded me that despite all the difficulties I've faced, I'm still very lucky to be associated with creators of this calibre and to have friends like the ones I have. I cannot wait to see what comes next.
Here's the track-listing:
1. Pip Skid – Tens of Dollars (Dj Hunnicutt Remix)
2. KaeoFLUX – Bots
3. Birdapres – Toothpaste
4. Zucchini Drive – Jaguar Sky
5. Mike Ladd – High Sea, High Field
6. Nomad – Son, If you don't Know
7. Pip Skid – Cut me Up into a Thousand Pieces (ft. Nestor Wynrush)
8. Speed Dial 7 – Dog Collar Blues (ft. Rob Sonic & The Infesticons)
9. Rob Crooks – Knows How To
10. Elissa P – Paintbrush
11. The Nestor Wynrush Ensemble – Blood Rock Live
12. Tim Dj Co-op Hoover – Two
13. Passage – Stressanomics
14. The Gumshoe Strut – Redrum (Dj Kutdown Remix)
15. The Gumshoe Strut – Beats (ft. Pip Skid & Yy)
16. Speed Dial 7 & Nomad – Stay Cool
17. Tim Dj Co-op Hoover – Nice Work If you Can Get It
18. Pip Skid – Shirley Temple (ft. B-Flat from The Lytics)
19. Infinite Livez – 4ever Smiley
20. Zucchini Drive – Down to the Spine (ft. M Sayyid from Anti-Pop Consortium)
21. Zucchini Drive – Handclap Handclap (ft. Nomad)
22. John Smith – High Magnificent (ft. Yy)
23. Creature – Embrace the Day
24. Birdapres – Rays and Beams (ft. Cadence Weapon & Nestor Wynrush)
25. The Gumshoe Strut – Never Saw It Coming
26. Speed Dial 7 – Jokes (ft. Yy)
27. Cavemen Speak – Save the Day
28. Zucchini Drive – Howler Than Thou
29. Zucchini Drive & Salvador – Children of the Damned
Download the sampler here. For more Marathon of Dope releases, including my Hearts EP, check out the website here.