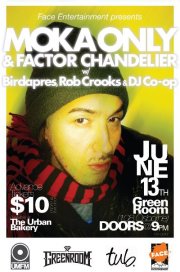 This coming Wednesday, June 13th, I will be opening up for Canadian Hip-Hop legend Moka Only, who will be performing with my long time homie from Rapskatoon, Factor Chandelier. Also on the bill are some other good friends of mine, but more importantly great artists, Bridapres and Dj Co-op. This is gonna be a good old rap show, like we used to have, and it will all be going down at the Die Maschine … I mean, the Green Room in Osborne Village, Winnipeg.
I think most people who are of a certain age and who have paid any attention to popular music in Canada over the last ten years are familiar with Moka Only, and likely have had one of his songs stuck in their head. Maybe best known to the populace as a sometimes-member of Swollen Members (during the years when Swollen Members had catchy hooks; coincidence? no), Moka Only has also had ties to Vancouver's pop sensation Len. But what some people might not know is how prolific Moka Only is as a solo artist. He releases several quality albums a year, that he raps on, sings on, does all the production for and records himself. He is a true artist. This show should be very entertaining and I intend to take some notes of the man while he's on stage.
Along with Moka, manning the ones-and-twos, will be my main man Factor Chandelier. Speaking of prolific, Factor has put out more albums over the past year than anyone I know. His merch table puts anyone else's to shame. And his albums move! Probably because it's great product. He's worked with artists such as Xzibit, Josh Martinez, Kool Keith, Awol One, Noah 23, Moka Only, Aesop Rock, Gregory Pepper, Buck 65, Living Legends, Ceschi, tha liks, Sadat X and of course two of his main go-to emcees the L.A. legends Awol One and Myka 9. He started making noise back in the late nineties with the Side Road imprint, which he began with another Saskatoon legend, Dj Chaps. They put out records by some of Western Canada's best rappers, such as Def 3, Ira Lee, Kay the Aquanaut, Cam the Wizard and many, many others. I've known Factor for probably ten years now and he's one of the funnest people I know, so I'm looking forward to chilling with the homie, talking rap and taking shots of tequila with him. Come see us at the bar after the show!
Finally, I'm pretty sure that anyone who would be checking out my website knows all about Birdapres (we're just finishing up our EP together!) and Dj Co-op. Birdapres has deep roots to Vancouver and has known Moka for years as well. (In case you're wondering, yes, that's both of them in the "If You Steal My Sunshine" video). And Co-op is undoubtedly one of the top party rockers in Winnipeg. So this is going to be a crazy night, guaranteed. Tickets are insanely cheap, drinks will be flowing and girls will be dancing. Wednesday, for the next few months, is the new Thursday. So come down to the Green Room on the 13th and have some fun, why don't cha?!
You can check out the Facebook event page here.