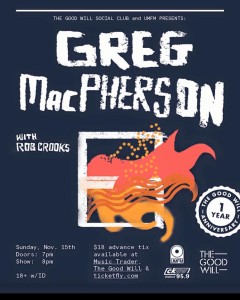 This Sunday, I'll be opening up for Greg MacPherson at the Good Will in Winnipeg. Greg, along with co-owner Cam Loeppky, run Disintegration Records, the label that I am currently recording my new album for.  All the songs I'll be performing at this show will be from this upcoming album.
The album is a continuation of the path I was on with my album Hearts, from 2012. I got sidetracked by putting out a couple rap albums since then, but these new songs are a return to the post-punk/rap hybrid thing I was working on back then. I like these songs, and I'm finally at a point where I feel comfortable performing them. Playing keyboards and triggering samples, all while switching between singing and rapping has been a new challenge for me. But I'm starting to get the hang of it. And this might be the first show I've played where that is apparent.
I'm considering calling the album Out of Nothing. It comes from the Latin phrase "nihil fit ex nihilo," which translates to "nothing comes from nothing," or "nothing comes out of nothing." I considered calling the album Ex Nihilo, but that sounds too pretentious. I've also considered The Nothing From Which Nothing Comes. But I dunno. I'll figure it out. It all stems from non-essentialist theories of identity; that our essence is nothingness. A lot of the songs are about that, so it seems appropriate.
Anyways. The show is an early one this Sunday, so come down by 730pm if you want to hear my new songs. I'll be on not much after that. Then Greg goes on, and then Ted Turner, my partner from Loose Fit will be playing records to close out the night. Cool?