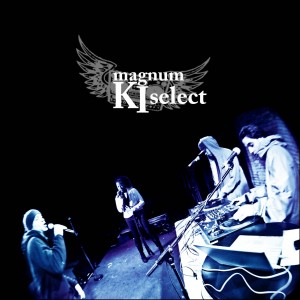 Magnum KI has a brand new album. And to celebrate we're having a party on December 19th at the West End Cultural Centre in Winnipeg!
Select is very different than the first Magnum KI record. Although the foundation of Ismaila's rap and raggae vocals over Kutdown's boom-bap beats remains intact, there's also plenty of new elements to these songs. For one we've added a new vocalist, Rhonda "Fenom" Thompson; and secondly, yours truly is featured much more prominently on these recordings. We also really branched out from our comfort zone on this one in terms of subject matter and song structure. The result is an album with more layers and diverse textures than anything else Magnum KI has done previously.
Admittedly, the self-titled Magnum KI record, released way back in 2010 was an attempt by attention starved hip-hop artists to get some love from their own city. Back then Ismaila, Kutdown and I were already well established in what we did. But outside of our poorly attended underground rap shows, no one seemed to notice.
We wanted to do more with our music. We wanted to perform at bigger venues, get played more on the radio and be recognized for our talent. We wanted Winnipeg to know that we were as good at making music as any band in the city was. This was difficult to do as solo artists though, so we teamed up as Magnum KI to help elevate each other to the level of notoriety that we felt we deserved.
Maybe that sounds crazy. But the craziest part about it is that it worked. After releasing the Magnum KI self-titled album we were finally being asked to play high profile shows, in and outside of Winnipeg; we were getting paid more money than ever before; and we even got nominated for an award. People were finally paying attention to us. Our plan was working.
This so-called plan had two phases though. Phase one was to create a pop-heavy hip-hop album that would get us some attention outside of the city's rap circles, a scene that at the time was lethargic and dwindling. Phase two, however, was to make a second album, this time one that our artistic sides could truly be proud of; an album that would make people realize that we had something special to offer.
First thing we did as part of phase two was ask Rhonda Thompson aka Fenom to join our group. Her feminine sensibilities worked well against our testosterone-laden studio sessions. Not to mention her soft, melodic voice complimented Ismaila's deep commanding tones in a way that added a much wider depth to the sonic landscape of our tracks.
The next step was to start picking beats from Kutdown's catalogue of hundreds (and hundreds). We wanted to keep the tempo up on this record, just like we did on the first one. We still wanted to make music that could move a live audience, but this time around we also wanted beats that evoked the edgier, sometimes darker side of our personalities. We wanted to make songs with more substance, songs that reflected our ambition to connect with people in a truly authentic way.
We spent hours upon hours in the studio, fuelled by a desire to make the album we always dreamt of making (and whatever else we could get our hands on). We often started our sessions as the sun was going down, and ended them as the sun was coming up. Our time in the studio, which was above a night club, outlasted dance parties and nights out at the bar. All the elements were at our disposal, and we were obsessed with finding the arrangement that would make them all hum together at just the right frequency.
The record has been done for over two years now. But somewhere near the end of the process we just got burnt out. The constant ups-and-downs were exhausting. One moment we felt like we were doing something bigger and better than anything we had ever done before; the next moment we didn't know if what we were doing made any sense at all. We needed to take a break and get some distance from it.
We planned a brief hiatus and went our separate ways. But as often happens, our solo endeavours, day jobs and families swallowed up time so quickly. But all the while, the record we made still pulsed and glowed in our mind's ear. A little time away from what we had done made us realize how proud we actually were of our work. Maybe the timing isn't perfect on this release, but we can't sit on this album any longer.
I don't know if there will be another Magnum KI record after this one. Maybe, maybe not. We never made any real money with it. And with no real plan, no management and no label, it's hard to convince four grown-ups to all get in the same boat that may or may not make it to the island. But I hope this new record does well enough to convince us all to try. We'll see.
Come check out our dual CD release party with Neil Wattson at WECC December 19th.