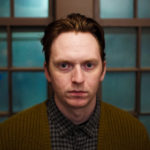 This may finally be Rob Crooks' moment.
Crooks, who has been a familiar face (and voice) in the Winnipeg music scene for almost two decades, has thus far been comfortable on the edge of widespread recognition. He's collaborated — as writer, producer and performer— with many of the biggest names in Winnipeg rap, and has released a number of solo albums that have been critically acclaimed, if not widely heard.
That may all change with the release of The Nothing From Which Nothing Comes, Crooks' first album with local label Disintegration.
The Nothing From Which Nothing Comes retains Crooks' award-nominated songwriting, plaintive vocals and synth-soaked soundscapes, but adds something new: big, catchy pop hooks.
His most accessible record yet, The Nothing From Which Nothing Comes introduces danceable beats and earworm choruses into Crooks' signature sound, without lessening the impact of his often bleak, incisive lyrical outlook.