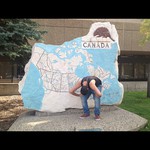 We returned to Winnipeg this past Sunday, feeling drained and a little more insane than when we left, but  extremely fulfilled. I personally had one of the most successful tours yet. There were so many great times with old homies and new friends. Driving from Winnipeg to Vancouver and back in a car full of such unique and awesome artists, stopping at as many places as possible along the way and meeting up with such amazing people is a very satisfying way to spend the last days of summer.
Dj Co-op flew out from Vancouver after our show there to join Cadence Weapon in Montreal, for some shows they had lined up together, including the Polaris Prize Gala (or whatever it's called). It was a little sad to see him go, but it's great to see our friend be able to fly all the way across the country to do something so cool.
That left Pip Skid, Speed Dial 7 and I to close out the final two dates of the tour in Regina and Pip's home town, Brandon. Driving all the way from Vancouver to Regina with only one stop is enough to make even the sanest person peek over the edge into the abyss a little. But it just gave the final two shows all the more energy .. like a wobbly top, just before it finally tips over.
Speed Dial 7 left back to Belgium on Monday. He met up with his fellow Zucchini Drive member for the European LP release party of "No Food, But Lots of Weapons." (After seeing the album performed every night for two weeks, I have to strongly suggest you cop it.) I miss the guy already, but I'll be over there in Europe early next year to play some shows, make some new music and hang out.I haven't been outside Canada too much, so I'm looking forward to that.
Pip Skid and I were back to work on Monday, organizing the Freestyle Hip-Hop Festival, which is held annually at the University of Winnipeg. (More on that to come.) No rest for the wicked I guess is what they say.
I had such an amazing time on this tour that I didn't want it to end. It's great to sleep in your own bed, and re-connect with friends and family back home, of course; but I really love being on the road, playing shows for new people every night. But I'll be back out there soon enough. In the meantime thanks to everybody who helped with, supported or happened upon our tour: Chris, Chaps, Factor, Soso, Rewind, Manjito, Touch, Epic, Trevor, Bastien, Lou, Roddy Rod, Port Authority, Jay, Rhek, Josh, Murk, Patricia and all the old homies and new ones too. (Sorry if I missed anyone.) We'll see you again soon!