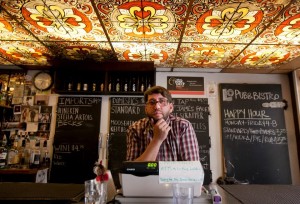 On Saturday, I went to the last ever show at the Lo-Pub. The line-up was great, but that's really not the reason I was there. I wanted to have one last drink with a terminal friend. I wanted to stay until the end, and see the lights go out; but unfortunately, in my distraught state I drank too much too quickly, and ended up stumbling home alone, a mess. I didn't want it's last image of me to of a blubbering, drunken idiot.
I don't know what the hell is happening to this city. Everyone outside of Winnipeg seems to talk about in one of three ways: the winters are long, cold and bitter; you might get stabbed randomly; and there's a thriving music scene.
Somehow these three things all went together. The Albert, for instance, wasn't an outsider friendly venue. It was downtown, where the winds in February seemed to sting even more than anywhere else in the city; and yes, you might run into some trouble that you'll need to have some street smarts to handle. But if you could brave all of this, there was bands playing there almost every night.
When the Albert shut down, it was a blow to the music community in Winnipeg (maybe even Canada), for sure. But the Lo-Pub, in it's infancy at the time, was there to take a lot of the burden onto it's shoulders. It became the new Albert, in some ways. Not because it was really anything like the Albert though; it was a different atmosphere, for sure. But because you could always count on it. There were usually bands playing, and either way, it was always a comfortable place to go for a beer or 15. (And it was certainly an improvement for the city as whole, over the dive bar it was before it became the Lo!)
It started feeling like another home I think, when Dj Kutdown, Cassin Eliott and I started putting on the Mass Appeal Mondays, a weekly show designed to bring the Winnipeg hip-hop community together. Later on, it was the first venue I performed my new style of music at (see "Hey!Hey!"); that was probably the only venue in the city I could even get away with that shit at the time. That's why I had my Hearts CD release party there earlier this year.
Now it's gone. The Albert too. And soon, Times Changed. What's next? I shudder to think of what doom is looming and for whom…
The good news is that it doesn't sound like Jack (Jonassen, pictured above; the man behind it all) is going to give up. So, hopefully he'll find a new place, and we will all be able to move on. But until then this is a public thank you to Jack, and all the staff at the Lo-Pub for all the great music, drinks and fuzzy memories!