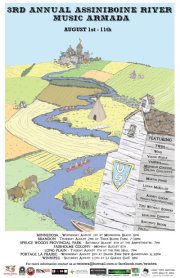 I like French stuff: philosophy, literature, film, music. France is pretty alright in my books. Not to mention they gave us the Golden Boy. I'm proud to live in a place with such a strong French presence and history, even if we do all pronounce Portage as "Poor-tidge."
St. Boniface is really a nice neighbourhood, too. It's interesting to be able to cross a bridge into a place where the signs are all in a different language, and they have their own monuments, schools and statues. I mean, I know it's no Quebec, but that's kind of why it's cool: it's not Quebec; it's in the middle of the country.
Some of the very first shows I performed at and attended were in St. Boniface, at Le Rendez-Vous. They closed that place down a long time ago, and I haven't really spent much time in St. Boniface since. I've always wanted to play more shows there, though.
Well, now I finally get another chance. Next Saturday, August 11th, I will be performing at the Finale Show of the Assiniboine River Music Armada (ARMA), at the Le Garage Cafe in beautiful St. Boniface, Winnipeg! I've particularly wanted to perform at Le Garage for while now, so this is really exciting for me.
ARMA is a unique event, to say the least. It was started in 2010 as an annual traveling festival, by David Fort, formerly of Absent Sound and currently of TWIN. This year's dates were Brandon (Aug. 2nd), Spruce Woods Provincial Park (Aug. 4th), Fairholme Colony (Aug. 6th), Long Plains (Aug. 7th) Portage La Prairie (Aug. 8th) and finally Winnipeg (Aug. 11th). The craziest part is that the bands who travel with the show CANOE FROM VENUE TO VENUE! Insane, hey? You can read more about it online, as part of the latest issue of Uptown Magazine.
The Winnipeg show will also feature the music of Wind, Monsieur Coccinel, Young Pixels, Field and of course TWIN (Vampires was originally scheduled to perform as well, but unfortunately, had to bow out). There will also be art and visual installations by Colony Collective, Pretty Grizzly, Greg Hanec and Brian Longfield. Again, I will be playing with Jonothan Askholm. We're going on last, so we're going to make the set super dancy. Our shows are always way more fun when people dance to the music! But if you just want to hang back, and take it all in, you'll also be able to enjoy the trippy visuals of Ryan Simmons during our set.
I can't say how excited I am about this show. Hopefully you can make it down.
Check out the Facebook event page here.