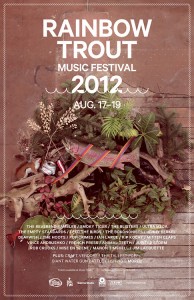 After a one year hiatus, the Rainbow Trout Music Festival is back in full effect for 2012, and I will be performing! I was scheduled to perform at it last year with Magnum KI, before some unforeseen circumstances shut it down; but everything is going and will continue to go smoothly for this year. And it's this upcoming weekend!
The festival was started a few years ago by a half-crazed man named Ben Jones (aka the drummer for Winnipeg Indie-Rock outfit and Wu-Tang cover band, Ultra Mega). I shouldn't speak for Ben, but from what I understand, the festival was started as more or less of an excuse to invite some friends out of town for festival of music, camping and fishing. Fast-forward three years or so, leave behind some inevitable hurdles, and RTMF has blossomed into one of the most anticipated summer events for music-lovers in the Winnipeg region. A blue-collar Folk Fest, you could call it, referring to the incredibly affordable prices and impressive musical line-up.
I'll be performing on Saturday evening, 7pm. Jon will be accompanying me again. And the rest of the weekend is packed with amazing bands from the region. Even if I wasn't performing, I'd be looking to hitch a ride out to the site to see some of the great talent booked for this year. But there's not enough room to list them all here, so check out the official RTMF website here. There you'll find a complete list of bands, ticket information and details on what the festival is and what it means to the Winnipeg indie music community.
The Facebook page for the festival is here. There is also a Facebook event page here, dedicated to offering or finding rides to the location, which is approximately 45 minutes outside of Winnipeg. Directions to the festival can be found here.
For many of us this could be *gasp* the FINAL HURRAH OF THE SUMMER. So, don't miss it!!!!