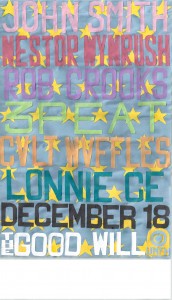 There is a War on the Holiday Rap Convention and we are sick of it. That's why I have banded together with John Smith, Nestor Wynrush, Lonnie Ce, 3Peat and Cvlt Wvffle to end the insanity.
Every year when we report Haters assaults on the traditions of the Holiday Rap Convention, the crazy loons begin a vitriolic campaign to diminish me and this event. There is a reason why they are doing that. And it has nothing to do with Iggy Azalea.
Let's take it step-by-step. No one tells you a person could possibly see a Holiday Rap Convention as an imposition of hip-hop. When the City Hall Holiday Rap tree here in Winnipeg was lighted no one threw themselves to the ground screaming about Dj Kool Herc. That did not happen. Winnipeg police did not round up the onlookers and force them into the Good Will a few blocks away. Nothing like that happened at the tree lighting. It was just a fun occasion.
Also you heard a hater on this program last night say the Holiday Rap Convention imposes hip-hop on him. But hip-hop is not an organized culture that can be imposed. There are many different styles of hip-hop that promote rap in many different ways.
Does the hater think the Holiday Rap Convention is promoting NWA? Three 6 Mafia? Wu-Tang Clan? What? After that interview the crazy Web site People emerged screaming that I'm wrong. Hip-hop is indeed being imposed. These people are so stupid it's painful.
Hip-hop is a philosophy. You don't have to believe Afrika Bambaataa is God in order to admire his breaks.
Millions of hipster kids admire Bambaataa as a great selector. In fact today's pop culture was founded on hip-hop philosophy, that's what shaped our music and slang. Again if you are stone-cold dumb and don't understand the difference between hip-hop and rap, I cannot help you.
In 1987, President Eric B. made my point when he sent this Holiday Rap message to the American people, quote, "the Holiday Rap Convention is not just at the Good Will on December 18th, it's a state of mind. To cherish Holiday Rap and the Good Will, to be plenteous in freshness is to have the real spirit of the Holiday Rap Convention. If we think on these things there will be born in us a Dj and over us will shine an emcee sending their dope lyrics and ill flows to the world."
That's from my private collection, by the way. Is Eric B. imposing hip-hop in that Holiday Rap greeting? Of course not. He is promoting a fun time at the Good Will, December 18th. Now the more intelligent haters realize that what I'm telling you is absolutely correct. Historically and scientifically but many of them don't care, they want any hint of freshness out of the public square.
The haters want a new Winnipeg and the Holiday Rap Convention isn't a part of it.