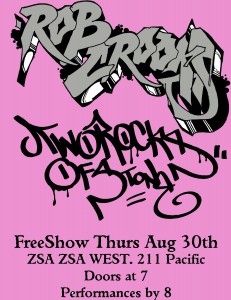 I feel as though Two Rocks of Stone are my true cohorts, as far as Winnipeg's music scene goes. I consider myself and them to be if not the only, a few of very select musicians in the city to be making no holds barred, experimental hip-hop.
Of course, it wasn't always this way. Right around the turn of the millenium, experimental hip-hop was everywhere, or at least it seemed like it to me. It really got to the point, around 2005 or later, where "experimental" was becoming the norm, and thereby not really "experimental" anymore. Eventually, most people got sick of it, and moved on.
Two Rocks of Stone were really out there back then. Way more out there than anyone else in Winnipeg, at the time. When I first saw them, it was a real mindfuck. They had a table set up covered in gear that they played live, making beats on the spot. When a good groove would emerge, one of the members (Ryan or Jordan) would come out from behind the table to rap some crazy shit that must've been sent from somewhere on high. It was like seeing a kraut-rock band re-incarnated into a modern day Canadian hip-hop group. Needless to say, I wanted to get to know these two weirdos.
Since then, both members of TROS have been very influential and supportive of what I do, and I try to be the same back to them.  None of us have stopped experimenting, taking music to fringes that people may say isn't even hip-hop anymore. But no one I know wants to debate what hip-hop is or isn't. So putting all that aside, why not come and check out some musicians who have been making sampler-based music since before most people knew what a sampler was. This will be the real deal. (Like the real real deal. Really. Or maybe not, I don't know anymore…Who even cares?)
Anyways, this show will be early. It is the closing party to Ryan (of Two Rocks) J. Carman's art exhibit at the Zsa Zsa West Gallery, which was not so long ago Ryan's own gallery, Golden City Fine Arts. It is situated at 211 Pacific, in Winnipeg's Chinatown. The show is free, but the art is not, so please bring some money in case you see something you like.