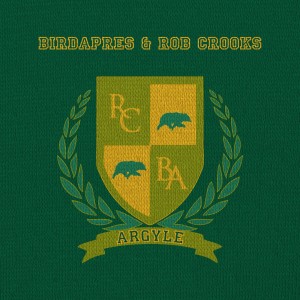 To all of my friends and fans that have been vocally skeptical about how much I sing on my new shit, here's something just for you. Argyle is an EP Birdapres and I made full of raps and beats, and it's all based around the theme of being in high-school. Why high school, you ask? Why is the sky blue? Why is water wet? Why did Judas grab the Romans while Jesus slept? In the simplest terms possible, we went with it, and it worked out. Below is a more detailed description of the album and the creative process behind it. You can read it to find out more.
In the meantime, you can download the album here.
"For the first time ever Birdapres has teamed up with Rob Crooks to bring you Argyle. Named for both an alternative high school in Winnipeg and the pattern that adorns school uniforms, this eight track EP hearkens back to the days of low-hanging backpacks, mind-numbing classes and juvenile delinquency. Although Bird and Crooks are well beyond their teenage years, they artfully use the theme of high school to express the feelings of alienation and ennui that followed them well into adulthood.
The poetic insight that laid the theme for Argyle came from Birdapres' observation that most people had a friend or classmate tragically pass away during the months or days surrounding graduation. From that dark inspiration came the pensive "Bus Stop Blues," a song that developed the overarching concept for this brand new EP. Other songs cover topics such as adolescent drug-use ("High School High"), skipping class to smoke "Cigarettes" (feat. Pip Skid) and the dreaded "Summer School."
Sonically, Argyle is contrastingly upbeat and fun. Rob Crooks, playing the role of producer in addition to emcee, took records supplied by the walking-vinyl-encyclopedia Birdapres and fed them through his sampler to create beats influenced by Krautrock to Miami Bass. Samples from classic 80s and 90s high-school movies are sprinkled throughout the EP adding a narrative that takes the listener from the first day of school to graduation and beyond.
The final result is a hip-hop album unlike any other, relating the experiences of angst-ridden high-school students to the existential problems facing us as grown-ups today."