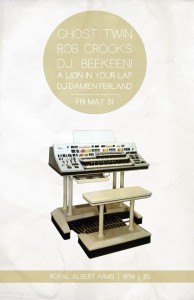 In the past few weeks, you, like many others, may have asked yourself: "what the hell has happened to our beloved Albert?" After all, we've all heard the stories that have surfaced since the now infamous 'toasted bun' incident went public. The last thing I remember paying attention to was the picture of the bikini-clad waitresses, posing in front of the atrium. "Those poor girls," I thought, "caught up in something they probably have little-to-no idea about, trying to fake a smile in the less than beach weather spring air, only to have hordes of angry Albert-lovers rally against them on Facebook."
"We want our Albert back!" we've been collectively screaming. "We want boys and girls smoking cigarettes and doing drugs together in the girls bathroom; we want guys pissing on the walls in the boys bathroom, where the urinals used to be; we want some drunk person bottling some even drunker person out on the dance floor; we want blood and puke stains in the carpet, and chips in the floor tiles!"
Mind you, some of that stuff still happens at the Albert. But some things do inevitably change. The Albert qua the Albert was a special place that became a rite of passage for many of us. It was a place that represented so purely the Winnipeg experience, an experience that can be so dark and raw at times. The Albert was that underdog in all of us, with so much spirit and so much fight (figuratively and literally); it was a run-down dive to the naked eye, but with so much character underneath that the initiated couldn't help but love it.
And now it has brand new floors, brand new customers and a brand new owner who is potentially a huge asshole. (I say "potentially" because I've never met him.)
But one thing that the new Albert still has, that the old one had too, is bands. Realistically, there are probably a lot of places you like to patronize that have assholes for owners. The difference might be that the owners of those other places didn't buy a place with so much history, that meant so much to so many people.
Unfortunately, the Albert as we remember it may never come back. In fact it probably won't. Neither will the Lo-pub. Nor will Wellington's. But in spite of all the blows this city has taken over the past few years, and the many more that are coming, don't we need to keep focus on what mattered in the first place? It's all about live, underground music in the end; and we're losing venues at an alarming rate. Say what you want about the Albert, but don't turn your back on local music.
FRIDAY, MAY 31st at the ROYAL ALBERT ARMS HOTEL
A LION IN YOUR LAP (10:00)
GHOST TWIN (10:45)
DJ BEEKEENI (11:30)
ROB CROOKS (12:30)
(with DAMIEN FERLAND djing Synth Music between sets)
$5