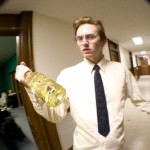 So, here we are again at the end of another year. I hope everyone is having, and will continue to have a wonderful winter. Two-thousand-eleven was quite a year for me. I played shows all over Canada, from Vancouver to Montreal, and everywhere in between. Next year I hope to play Victoria to Halifax and beyond.
I have some big things brewing for 2012, including a solo EP, called Hearts that is currently being mastered. On this one I collaborated with Greg Arcade as producer. He recorded all the songs, and I think did a great job of getting them to sound how I wanted them to. You can expect Hearts to be available early in the new year.
Another collection of music that will be available in early 2012 is the EP that Birdapres and I have been working on. You can check an earlier post for more information about this up-coming release. I am really excited about it!
And finally, another release that is set for release in 2012, this one for spring, is the new Magnum KI record! I'm probably most excited about this album, over the other ones, because I know how hard we've worked on it, and I know that expectations are relatively high for it. It's a bit nerve-racking to have so much energy and time invested in one project, but I think it will prove to be a success. I know Magnum KI's existing fans will be happy with what we have come up with, and I'm pretty confident that we will gain a bunch of new fans as well. We're going all out on this one, so watch out!
You can also expect a big show announcement from Mikel Rondeau and I in early January, so keep checking in here for all the up-to-date news. Otherwise, whether you're going to the Pyramid for Co-op, Hunnicut and D-Lo, or going to the Lo-Pub for the Lytics and Ultra Mega show, even you're doing something I don't even know about (!) HAVE  A SAFE AND HAPPY NEW YEAR!