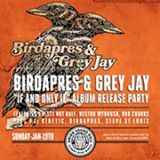 There's a lot of interesting hip-hop being made in Winnipeg right now. Some of the artists who have been around for a while are returning to form after a lull and are starting to put out music again. Additionally, some younger artists are starting to prove themselves, putting out music that speaks to the new generation of hip-hop fans. It's an exciting time in that sense: there's a lot of different styles of rap being represented in our city. Despite this, I can't help but feel as though something is missing.
When I started attending rap shows and performing around the city, there were a number of groups who were well established. Crews like Peanuts & Corn, Frek Sho, Mood Ruff and Shadez Ov Blac were doing things on a level that younger guys who were coming up at the time (like me) could aspire to. And what added to the excitement was that the scene wasn't just a scene, but a community. It seemed like every hip-hop fan in the city converged at local rap shows. There were gangsters, want-to-be gangsters, backpackers, gear heads, nerds, outsider weirdos, purists, etc all coming together to see what was happening in our bourgeoning scene. And it was ok if you liked Shadez more than P&C, or if you liked Frek Sho more than Mood Ruff, or vice versa. We still all supported and took part in the scene.
I can speculate on what deflated the bubble, but this is not the time for that. All I can say is that eventually the scene dwindled, and the hip-hop scene in Winnipeg became limp. This lasted for a few years, with interesting releases being few and far between. But fast-forward to today, and it seems as though every week there's a new video, new single or new release by a hip-hop artist in the city who is doing something of quality, or at least of some interest. It's great to see. But still, that feeling of a community is not there like it used to be. You may not see a fan of the Lytics at a Winnipeg Boys show; you may not see a fan of the Winnipeg Boys at a Pip Skid show.
In reality, the whole atmosphere of music has changed. Hip-hop is just a microcosm of a larger cultural shift. There was a time when rap was a specialty form of music, the output of a specific counter-culture. You either lived hip-hop or you didn't. But these days, any scene you choose is full of dabblers, fringe fans and weekend warriors. It is what it is. I don't want to be one of the guys dwelling on the past too much. After all, what really made hip-hop great was innovation, so you either keep up with it or get left behind.
K.I.M.
On Sunday, January 19th Birdapres and Grey Jay will be releasing their album at Union Sound Hall. For a lot of us, like me, this is going to be like stepping back into the past. I expect to see a lot of the old homies there. Playing a show with Birdapres, Nestor Wynrush, Kinetik and Steve St. Louis will bring me back to the old days of the Collective or the Braemar. But instead of Hunnicutt and Co-op simply promoting the show, this time around they own the club. Things change, and sometimes they get better.
Check out the Facebook event page.