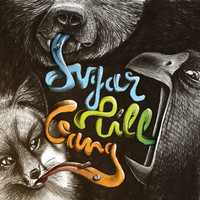 Pip Skid and I have been making quite a bit of music together lately. But Sugar Pill Gang is the first album we've built as a team from the ground up. Of course, we didn't do it by ourselves. Speed Dial 7 raps on it too, not to mention the fact that he co-produced it with me and engineered the whole thing himself.
This album was conceived of on the road, during downtime from two Marathon of Dope Canadian tours, a year apart. Sometimes playing in front of 20 people in a far away city can make you feel like you're on some wonderful drug; sometimes playing for an empty venue can feel like you're on a bottomless comedown. Days off in between often feel like the world is flipped upside down, and you're barely treading water in the inverted sky. This is the mind state we were in when we wrote these songs.
The lead "single" from the SPG album features the legendary Greg MacPherson. I can use the word "legendary" without any sense of hyperbole because his legend was known to me well before I ever laid eyes on him. Little has been done since to spoil his mythology in my mind. It's not without pride that I tell you he sings on a song that I took a part in creating.
There's a full album coming of this stuff very soon. Make some room on your iPods for Octobre 8th. In the mean time, have a listen to "Out of My Way"  (Ft. Greg MacPherson):
From the Sugar Pill Gang press release:
"The international force known as the Sugar Pill Gang is a band of depraved outsiders and pseudo-musicians. Individually Pip Skid, Speed Dial 7 and Rob Crooks are three misfits that have emerged from the gutters and alleys of their hometowns, drenched in puddle water, with alcohol breath and nicotine-stained teeth, to connect across oceans, from Belgium to Canada. With vague ideology and disconnected narratives, they scoff at the idea that they are to be attached to some sort of coherent "movement." They are fully entrenched in an absurd world, devoid of meaning or substance. Over driving beats, they are shouting some kind of poetry that sounds like the primitive moaning and groaning of the basest form of expressive being. Not only are they convinced that they won't be understood; they are sure there is nothing to understand. This is the Sugar Pill Gang's invitation to a new kind of party."
I hope you like it!