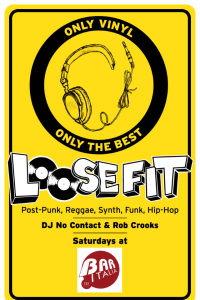 On Saturdays, Dj No Contact and I play records at Bar Italia in Winnipeg. As anyone who knows what Bar I is must be wondering: yes, it was a little strange at first. In fact, it's a little strange every week. You see, Bar I does have a bit of a reputation. All the salacious rumours aside, it is more or less a Top 40 bar in the body of a lounge. So, when Dj No Contact and I started playing records there, we weren't sure what to think. We were playing songs by DAF, Cabaret Voltaire, Tuxedo Moon… (or at least, I was) to a crowd of people dressed for Rhianna and Fetty Wap.
However, Bar I is a much different place in the summer than it is in the fall and winter. In the summer Bar I turns from a chill lounge where you can hang out with your friends and talk about literature and film while having some nachos and beer to a mini-nightclub carnival. It has great location, and one of the best patios in the city, so when it gets warm people want to be there. And most of those people have never heard of New Order. So, we spent the summer trying to please people by playing Madonna and the occasional MIA song, while slyly mixing in the post-punk stuff where we could. And we survived. And now that it's fall again, we get to be a little more experimental with what we play. I'm going to put my Pere Ubu records back in the crates where they belong!
So, if you find yourself ever wanting to go out on a Saturday for a drink, but are not sure where to go, come to Bar I. The focus is on post-punk, but we like to dip into the stuff that inspired it (funk, disco, Krautrock) as well as the stuff it inspired (hip-hop, electro, indie). So come on down and make a request. We do play vinyl, but maybe we'll surprise you with what we have.