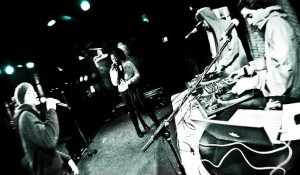 For the past few weeks, Magnum K.I. has been in the studio working hard on our follow up to the 2010 self-titled release on Foultone Records. We're getting pretty close to being finished and we're really proud of what we've come up with so far. We can't wait to show it off to all of our existing fans, and the new ones to come! This album takes off where the last one ended, with tons of dance-floor friendly songs, and b-boy anthems.
This time around, however, there is a new dynamic to the group. Not only have we added a new vocalist to the fray, the incomparable Rhonda "Fenom" Thompson; but we also feel like we've really found and connected with our audience better than we ever have before. By playing shows all across North America in the past two years, we've been able to work out who we are as a group, and how to conduct our live show, fine tuning it to a frequency that perfectly melds us on stage with the audience on the dance-floor. Now we've taken that energy that's been created through our live show into the studio.
As could be expected, our new album fuses old school hip-hop, raw rap, up-beat tempos and catchy hooks, but in a way that we're not sure has been done before. I don't want to oversell it though! So, we'll keep you posted on any new developments and you can find out for yourself soon enough! The new record is expected out early in the new year, followed by live shows any and everywhere we can make it to. There may e a teaser or two before then, so check back here or MagnumKI.com for updates!