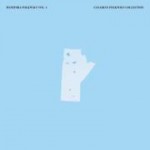 This coming Friday, October 28th, I will be performing at the Manitoba Folkways Collection's vinyl release party. I was asked to participate in this project by one of the organizers, the lovely Kerri-Lynn Reeves. Basically, the idea for the project was to go around Southern Manitoba looking for folk artists to record, with the goal of archiving the grass-roots music that Manitobans are currently making. Anyways, they can explain it a lot better themselves, I'm sure. If you're interested, check out there Facebook page here.
So, you may ask why Rob Crooks was asked to record for a folk music collection? After all, there are typically no acoustic instruments involved in my music. But the idea of "folk music" here is thought of in a broader sense than what you may traditionally think of.  In an interview they did for CBC.ca, Manitoba Folkways organizers, Jen Delos Reyes and Kerri-Lynn Reeves, described their idea of folk music like this:
"As Lomax said, if you are singing a song about your own life you are doing what they are doing, you are making folk music. Folk music is quite simply not a genre, but an approach. It is music about the lives and places that people occupy. "
So, ya. I guess I fit into that description. You can also check out  Kerri-Lynn and I discuss the idea in a video interview that we did for Witchpolice here. Now that you have more information on this show than you could probably ever want, come check it out! Here are the details:
PRESENTED BY VIDEO POOL MEDIA ARTS CENTRE
MANITOBA FOLKWAYS COLLECTION
RECORD LAUNCH
Date: Friday, October 28, 2011
Doors: 8:30pm
Show: 9:15pm
Location: The Lo Pub
Address: 330 Kennedy St, Winnipeg, Manitoba
Cover: $10 includes admittance and a copy of the Manitoba Folkways Collection Vol.1 vinyl.
"And when you sing a song about your own lives, you are doing the same thing they do— you are making folk music." -Alan Lomax, 1915-2002