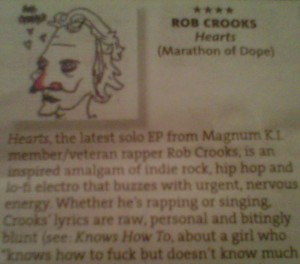 Earlier this month, we learned of another heavy blow coming down on Winnipeg's music scene. On top of venues closing down at an alarming rate (Negative Space now?), the free arts and entertainment weekly Uptown Magazine published it's final issue last Thursday. It will apparently re-surface as an insert in the Winnipeg Free Press, replacing the Tab.
As with anything that is meant to represent a scene, we all had our problems with Uptown at one time or another. Sometimes things that were important to us were being overlooked, while things that were important to others were getting all the attention; we'd disagree with the reader's poll to no end; we'd sometimes question the reviews, and the motivations of the people writing them. But at least there was always something to talk about.
I can't remember the last time I didn't make a point of picking up the latest issue of the Uptown from the LC, or from Into the Music or wherever else. I could read about people in my city who were doing things that I wouldn't have known about otherwise; I could read about almost all of the shows that were happening in town; I could read movie reviews and arts reviews; and of course the haiku horoscope always had me checking out the last page.
And everyone else read it too. It served as a sort of reference point for us to have conversations about our city. And the reason we all read it was because it was there. It was a tangible piece of media that we looked through while waiting for the bus, or waiting for a friend, or to avoid eye contact with some creep. It was written by people in our city about our city, for us. You could always say to someone "did you read that article in the Uptown?" What can we say now: "Did you read that blog article"? Which blog? Which of the 5 billion blogs are you referring to? No, I didn't read that.
Don't get me wrong: It's good that some people have taken the initiative to continue writing about our city online, like Nigel Eggnog at Concerted Trash, Sam Z. Thompson at Witchpolice, or the fine writers at the Spectator Tribune. But the Uptown, in the form it existed for so many years, will be missed.
On a bitter-sweet note, here's a review of my EP "Hearts" from the last issue of Uptown:
"Hearts, the latest solo EP from Magnum K.I. member/veteran rapper Rob Crooks, is an inspired amalgam of indie rock, hip hop and lo-fi electro that buzzes with urgent, nervous energy. Whether he's rapping or singing, Crooks' lyrics are raw, personal and bitingly blunt (see: Knows How To, about a girl who "knows how to fuck but doesn't know much about love," or the aggressive Not Cool, which calls out posers). Recorded by Greg Arcade, the EP has a cool, cassette-tape indie rock feel; there's definitely an emphasis on the high end, which sets it apart from traditional hip hop albums. Crooks' sound is fresh, and Hearts has a strong pulse."
– Jen Zoratti, Uptown Magazine.
Here's the link to the review. Check out Jenn Zoratti and some other ex-Uptown people at the Spectator Tribune's website http://spectatortribune.com/city/winnipeg/. See you in the funny pages.