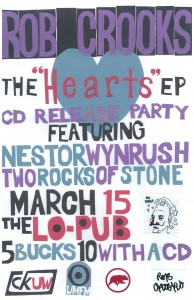 I am ecstatic to announce that on Thursday, March 15th, at the Lo-Pub in winterful downtown Winnipeg, I will be officially releasing my brand new EP, Hearts. Joining me for the occasion will be my good friends Nestor Wynrush and Two Rocks of Stone. It'll be five bucks to get in, but if you feel like balling out a little bit, there is also the option of paying ten bucks  and receiving – in addition to admittance – a free compact disc version of the Hearts EP. The show is brought to you by CKUW, UMFM, Marathon of Dope and Face Entertainment. For more information, check out the Facebook event page.
In addition to the CD release show in Winnipeg, Nestor Wynrush and I will also be heading out West to perform in Regina on Friday, March 16th (with InfoRed) and Saskatoon on Saturday, March 17th (with Chapter Thrive and Soso). More details to come.
The following Tuesday, March 20th, the Hearts EP will be available on www.MarathonOfDope.com for pay-what-you-can download.
I am very excited about putting the EP out, and I know the turn-out for these shows will express the quality of people in our part of the world. I can't wait to have some drinks, laughs and play some new songs for all of you. See you there!
(For more information on the Hearts EP, go here.)