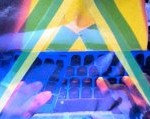 As I mentioned in a previous post, I will be performing at Golden City Fine Arts in Winnipeg's Chinatown this coming Friday! It will be Friday the 13th, so try not to get brutally murdered or anything.
In addition to my solo-set, there will also be the triumphant return of Two Rocks of Stone! I love these guys. If you are unaware, Two Rocks of Stone are an experimental hip-hop duo from Winnipeg, who perform their beats live on a set up of samplers, drum machines and effects processors, while taking turns rapping about insane things. It's pretty awesome. For a more concrete idea of what they are all about, check out one of their youtube videos here.
In addition to myself and Two Rocks of Stone, there will also be Dj Aaron Bragar. So, this will be a fun-packed night for sure. The atmosphere at Golden City is always very chill. I don't think there is a cover, and as always, it's BYOB. If you forget to BYOB, it's no problem, as the McLaren is just across the street. The party starts around 11, performances will start around midnight, and go 'til late. Again, it's at Golden City Fine Arts,  211 Pacific Avenue, in Chinatown.
For more information check out Golden City's Facebook page here, or their blog here. See you there!