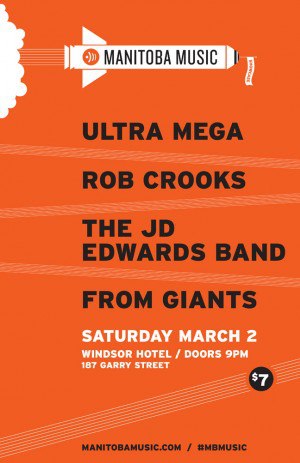 This Saturday I'll be playing my first show back home from tour with From Giants, the JD Edwards Band and one of my personal favorites, Ultra Mega. I've been trying to hook up a show with Ultra Mega for a while now, so I'm really excited about this chance to share a bill with them. Throw in the great talents of From Giants and the JD Edwards Band and you have a jam packed line-up.
Admittedly, it may be difficult to see where I fit in amongst these other three groups. It could be said that in Winnipeg there are two kinds of bands: bands who can play at the Times Change(d) and those who would be booed off stage, and possibly bottled. The other three bands on Saturday night's bill would be, and I'm sure have been, welcomed with open arms at the Times; I, on the other hand, happen to fit into the latter category.
There is a very old-school mentality amongst some music lovers in Winnipeg, as in other places, I'm sure. Some of these people don't think that samplers or drum machines are instruments. And they certainly don't think that hip-hop is music. I'm ok with that. I get it. But I also don't care. I make music the way I make it because it's how I've always done it. If I was stuck on a deserted island with nothing but an acoustic guitar I would make music with an acoustic guitar. If that guitar's strings broke, I would still find a way to play music on it. If there was no guitar at all I would use twigs to hit different sized rocks and come up with some sort of melody or rhythm. But I'm not on a deserted island so I use samplers, drum machines and synthesizers.
Anyways, this show is not at the Times Change(d), it's at the Windsor. So it's a moot point. But either way, please don't get me wrong; I love the Times Change(d) and their clientele, even if only in theory more than practice. I still think it's important that there is such an institution in Winnipeg's music scene, and the rumours that it's not long for this world are heart-breaking to me. But regardless, the fact remains: some bands play there and some don't. Keeping in mind that I'll most-likely never play at the Times, I'm very happy that Manitoba Music had the insight to see where I fit in amongst these other three bands who I'm sure have been celebrated by audiences at the infamous alt-country/blues bar. After all, we all just make music.*
*Although I do sometimes consider what I do to be "anti-music." But we can discuss that another time.