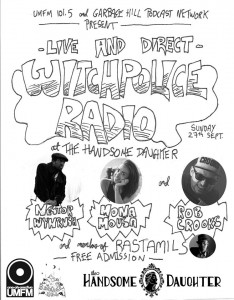 Garbage Hill Podcast Network presents Witchpolice Radio Live and Direct! It's a live podcast!
With guests: MONA MOUSA, NESTOR WYNRUSH, ROB CROOKS, and members of RASTAMILS!
Witchpolice Radio, one of Winnipeg's best-loved and longest-running music podcasts, is hitting the stage for the first time in 140+ episodes! Sam and Ryan will be interviewing musicians as usual, but our guests will be performing songs live as wel!
FREE ADMISSION!
GUESTS:

***MONA MOUSA***
https://www.facebook.com/mfmpoetry
http://www.monamousa.com/
in 2007 an eighteen year old Toronto girl got on a greyhound to figure out what this poetry thing is all about.
Seven years later as a spoken word artist, motivational speaker, and jill of all trades, Mona Mousa is rooted in the theory that we can all turn our scars into stories. Moving audiences, and calling them to action for important causes, Mona has never been one for small talk in turn she works everyday to start dialogue and challenge societies norms.
Performing all over North America, she aims to use poetry to inspires people who haven't found their voices yet. Her poetry sheds light on the struggles of mental health, sexual abuse and racial discrimination and she shares her personal experiences through poetry to encourage and empower others to be themselves and remain strong in the face of adversity.
***NESTOR WYNRUSH***
http://marathonofdope.com/portfolio/nestor-wynrush/
Elliott Walsh is Nestor Wynrush. Born in Winnipeg, raised in Mississauga, this first-generation Canadian taps his West Indian roots to cook up an authentic pot-au-feu that can aptly be described as rap-soul, black & roll.
With a hustle unsurpassed on the Canadian Prairies, Wynrush is closing in on ten years of recording and performing his charismatic style of rap music.
Wynrush's music is personal, sincere and unvarnished. It's storytelling music informed by love, sorrow, and the overall immigrant experience in Canada. Never does he eschew his roots in favour of appealing to a wider market. Truth be told, without his roots, Nestor Wynrush's music wouldn't exist.
***ROB CROOKS***
http://www.robcrooks.com/
https://www.facebook.com/RobCrooksMusic
My name is Rob Crooks. I'm from Winnipeg. I make unconventional forms of hip-hop music. This is my bio.
I write songs. By the time I was 24 years old, I was selling CDs and traveling all across Canada performing them, from Victoria to Montreal. Eventually people started to notice the songs I wrote. Within a few years I had written songs for people like Canadian hip-hop veterans Ismaila Alfa (fka Mocean of Frek Sho) and Pip Skid. I've also written the bulk of Magnum KI's material, including half of their 2010 self-titled album, which was nominated for a Western Canadian Music Award.
Nowadays, I'd just as soon take my sampler up on stage with me and pound out beats from the pads, and rap my own songs – or sing them – by myself.
***RASTAMILS***
https://www.facebook.com/RasTamils
http://rastamils1.bandcamp.com/
RasTamils offer a beautifully layered and tasteful take on classic reggae rhythms while also weaving in some jam-band influence, the hooky pop components of simple '60s rock, and a vocal style that pays homage to heralded East Indian pop singers in a wonderfully harmonious package.
http://www.witchpolice.com/
http://www.garbagehillnetwork.com/